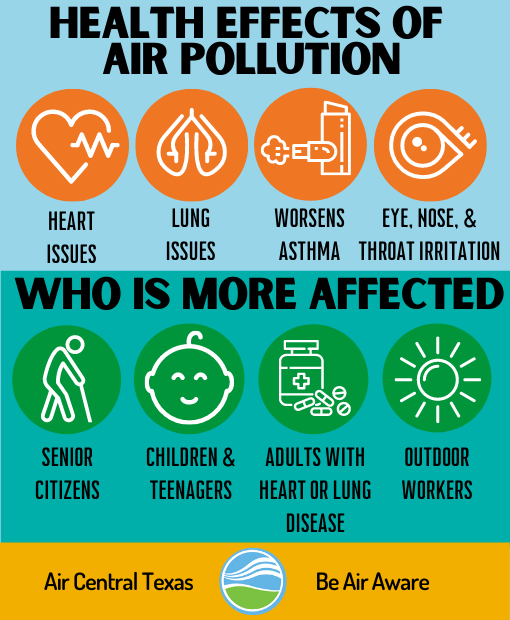 Sensitive Groups for High Ozone
While as recently as 2013, ozone levels in the region were high enough to be considered "unhealthy" for the general public, more commonly, the region's ozone levels are high enough to be considered by the U.S. Environmental Protection Agency (EPA) to be "unhealthy for sensitive groups." These sensitive groups include:
Children (under 18), including teenagers, because their lungs are still developing and they breathe more air per pound of body weight than adults
Older adults (65+)
Other adults (18-64) with lung diseases such as asthma
People who are active outdoors, including outdoor workers
Health Effects from Ozone
​Ozone can cause a number of health problems, including coughing, breathing difficulty, and lung damage. Exposure to ozone can make the lungs more susceptible to infection, aggravate lung diseases, increase the frequency of asthma attacks, and increase the risk of early death from heart or lung disease. EPA Air Quality for Ozone
Help Reduce Pollution Exposure on High Ozone days
You can use the Air Quality Index (AQI) forecast for ozone in order to plan outdoor activities if you are in one of these groups or take care of someone else in one of these groups.
Choose a less-strenuous activity
Take more breaks during outdoor activity
Reschedule activities to the morning or to another day
Move your activity inside where ozone levels are usually lower
You can "Be Air Aware" by signing up for daily air quality forecasts from TCEQ and downloading EPA's "AirNow" app on your mobile device.
Stats on Sensitive Groups in Central Texas
While the term "sensitive groups" may sound as if air pollution only affects a small number of people, the groups who are vulnerable to high air pollution made up more than 1 out of every 3 residents of Central Texas in 2015.
At least 766,014 residents are considered "sensitive" to high Ozone in the region

479,353 children
196,764 older adults
89,897 other adults 18-64 with asthma (5.5-8.3%, depending on the age group)
*Data sources: