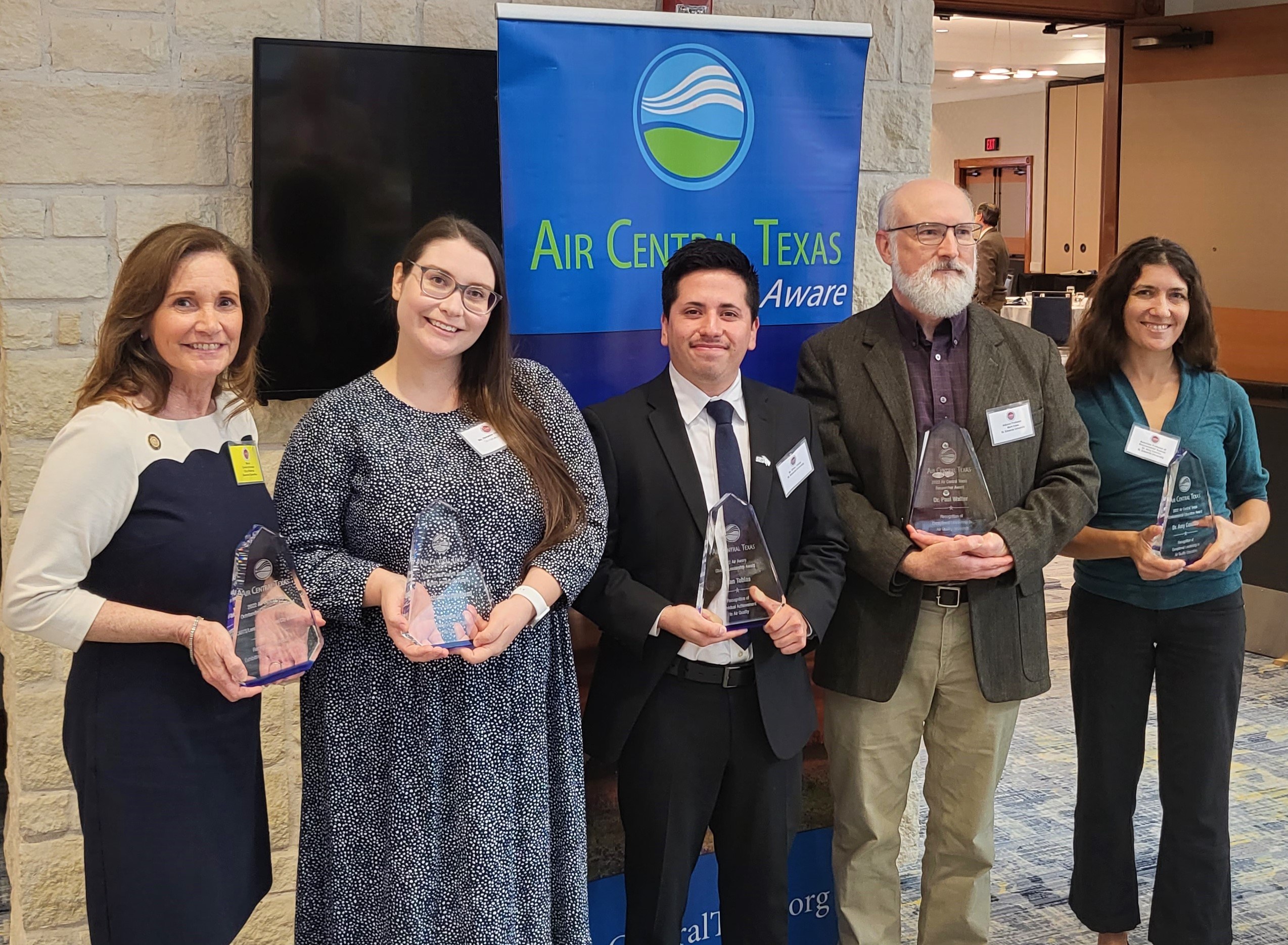 2022 Air Central Texas Awards Info
The Air Central Texas Awards celebrate the positive contributions of organizations and individuals to regional air quality in Central Texas. Our goal is to recognize the great work happening across the region and to inspire future actions that support the region's ongoing air quality planning efforts. Learn about past recipients.
This year the Central Texas Clean Air Coalition (CAC) on Wednesday recognized David Yeomans, Amy Concilio, Paul Walter, Ethan Tobias, Christiane Heggelund, and a joint effort by the City of Bastrop, Capital Area Rural Transportation System (CARTS) and Lone Star Clean Fuel Alliance (LSCF) with its 2022 Air Central Texas awards for making significant contributions to improving the region's air quality.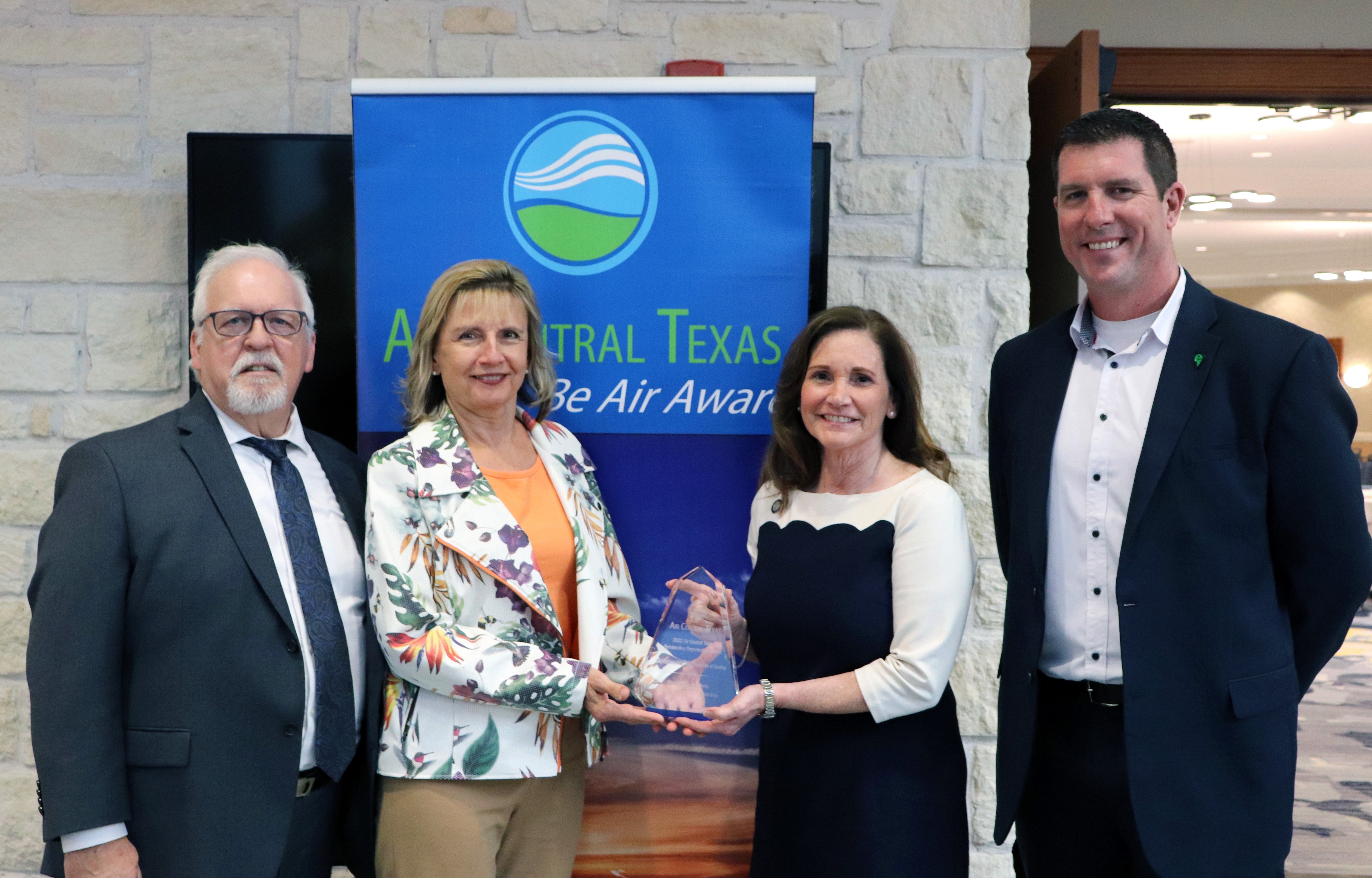 Air Central Texas Outstanding Organization Award
The City of Bastrop, Capital Area Rural Transportation System (CARTS) & Lone Star Clean Fuels Alliance (LSCFA)
The 3 coordinated the establishment of transit alternatives that blended electric cabs and smaller transit vehicles into an app-based on-demand micro-transit service (CARTS NOW). They utilized electric and fuel-efficient vehicles to provide a higher level of service to both residents and visitors to Bastrop while reducing vehicle miles traveled and pollutants. The effectiveness of the project saw a 300% increase in ridership while reducing the Vehicle Miles Traveled (VMTs), thus a reduction in nitrate oxides (NOx) and particulate matter (PM10). Such reductions lend themselves readily toward our region maintaining compliance with the National Ambient Air Quality Standards (NAAQS). Their efforts garnered national as well as international attention with the information derived from the project in Bastrop providing the National Renewable Energy Lab (NREL) and the DOE with a greater understanding of rural mobility.
The City of Bastrop is growing Central Texas City that is committed to multi-modal transportation as evidenced by its adopted Comprehensive Plan as well as its financial commitment toward sustaining a micro-transit infrastructure.
Capital Area Rural Transportation System (CARTS) delivers transportation tailored specifically for each of the many communities served in Central Texas. This venture is consistent with CARTS's commitment to bring mobility improvements the residents and visitors within its service area.
Lone Star Clean Fuels Alliance (LSCFA) is an Austin-based non-profit that is part of the Department of Energy's national Clean Cities program. LSCF works to advance affordable, domestic transportation fuels, energy efficient mobility systems, and other fuel-saving technologies.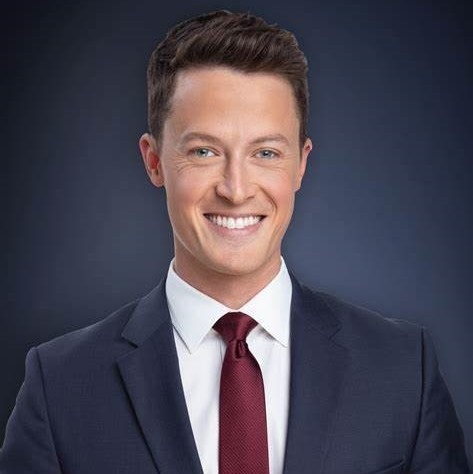 2022 Air Central Texas Media Award
David Yeomans received the 2022 Air Central Texas Media Award for his exceptional media coverage of air quality or air quality issues within the past year as chief meteorologist at KXAN TV. David has been actively involved with all aspects of Air Quality in Central Texas by working to keep public "Air Aware" with regularly announcing Ozone Action Days and becoming a regular attendant of Clean Air Force's annual Meteorologists Luncheon and Air Quality Professional Forum. He has interviewed air quality professionals on air and supports the use of air quality sensors in schools. Unfortunately, David could not be with us as he is fresh off his honeymoon and had some work to catch up on.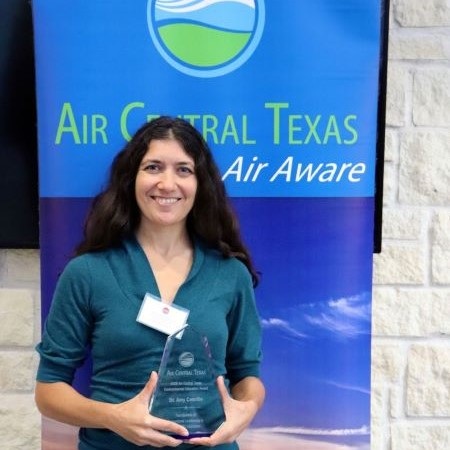 2022 Air Central Texas Environmental Education Award
Dr. Amy Concilio received the 2022 Air Central Texas Environmental Education Award for her exceptional leadership on air quality and environmental education. Dr. Concilio is an Associate Professor of Environmental Science at St. Edward's University where she teaches climate change, natural resource conservation and management and has previously been involved with the City of Austin's Climate Equity Plan. She is a leader in the Environmental Science and Policy program and one of the most popular instructors at the university. She employs a diversity of research methods, including ecological field trials, greenhouse experiments, and stakeholder interviews to measure impacts of global change on plant communities and ecosystems and to test the effectiveness and feasibility of land management approaches. As an instructor, she believes strongly in ensuring that her students understand the value of trees in the air pollution cycle and why they are so important to preserve. She is part of the Tree Campus campaign and was a founding member of the Food Forest, established on campus this year. Dr. Concilio has inspired hundreds of students to follow their passion with causes important to local air quality issues.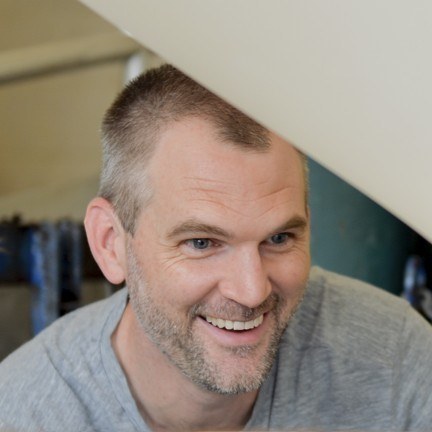 2022 Air Central Texas Researcher Award
Dr. Paul Walter received the 2022 Air Central Texas Researcher Award for his findings in the field of air quality in Austin, San Antonio, and other areas of Texas. His research included ozonesonde launches to understand ozone formation and concentrations in the atmosphere. An ozonesonde is a lightweight, balloon-borne instrument, similar to a weather balloon but with ozone measurement tools include, that measures various atmospheric parameters and transmits them by radio to a ground receiver. His research revealed the ozone concentrations at different altitudes and how ozone is transported within the atmosphere. An understanding of ozone transportation and concentrations allows the region to understand other area's impact on local ozone levels.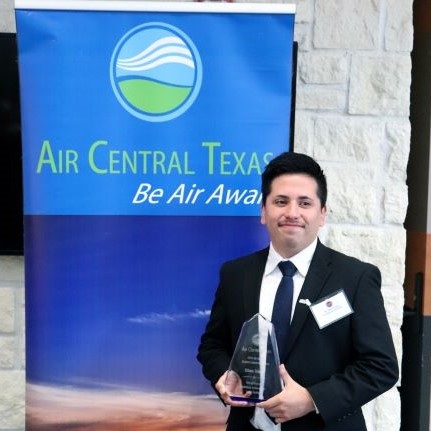 2022 Air Aware Student Leadership Award
Ethan Tobias received the 2022 Air Aware Student Leadership Award for his role with the Office of Sustainability for St. Edwards University as Intern. As the Sustainability Intern for St. Edward's University, Ethan has spearheaded the efforts to raise awareness for Environmental and Climate Justice and has promoted cleaner and healthier practices for all types of pollution. In his role with the Office of Sustainability, he has promoted renewable energy, the importance of trees, and using public transportation to help reduce our burden. He also shares information regarding air quality alert days with the campus community and worked with the Clean Air Force in hosting their local meeting on campus. Ethan is also the President of Students for Sustainability and uses his role there to not only share this information with them, but facilitate their role as advocates for a cleaner, more sustainable lifestyle; particularly with promoting renewable energy efforts on campus and encouraging carpooling and public transportation. Ethan has promoted and empowered the groups where he leads, has helped shaped policy and projects at the university, and has helped elevate Climate Justice as one of the pillars of the university's strategic plan. He also coordinates Tree Campus USA team, helping them maintain their designation for the last 7 years.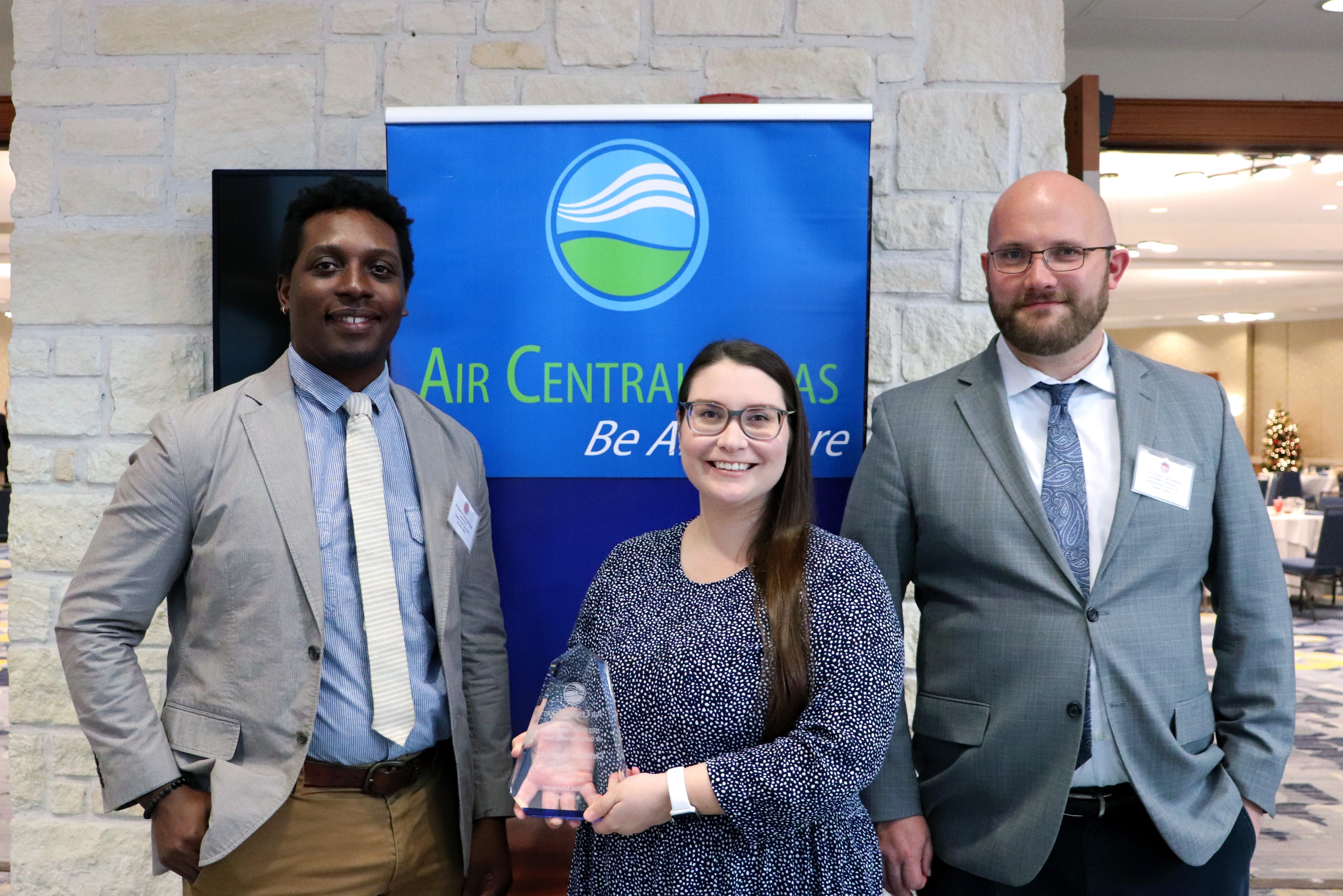 2022 Bill Gill Central Texas Air Quality Leadership Award
Christiane Heggelund received the 2022 Bill Gill Central Texas Air Quality Leadership Award for her long lasting and distinguished work at the Capital Area Council of Governments. Christiane is an environmental scientist who supported the CAPCOG Air Quality Program for 6+ years. She primarily worked in air quality monitoring and technical analyses during her tenure at CAPCOG and was crucial in implementing the display of CAPCOG air quality monitoring data on EPA's AirNow platform. This allowed residents of the region to access air quality data quickly and streamlined.Christiane's work in establishing the reporting of CAPCOG's air monitoring data on EPA's AirNow site will benefit the region for as long as the site is active. She optimized CAPCOG's ozone monitoring network in order to capture air quality data for the residents of the region by relocating monitors into more populous areas or areas with an air quality concern. During her tenure she oversaw the selection and execution of new ozone monitoring stations within the region to expand the region's understanding of air pollution concentration differences. She performed spatial and tabular analyses of air quality and meteorological data for various CAPCOG regional air quality reports and was instrumental in writing the 2 EPA grants for fine particulate matter monitoring, which CAPCOG was awarded. Those EPA grants will allow an understanding of particulate matter concentrations in the region at a scale that the region has not seen in the past. Christiane performed emissions inventory work to refine and improve the data, that TCEQ and EPAuses, for the CAPCOG region in the on-road, non-road, and point source categories. This work will allow the TCEQ and EPA to refine emission inventory data for use in state and national analyses.