Air Quality Around the World
Air quality in central Texas may not be perfect but it is important for us to reflect on how far we have come and compare our outdoor air condition with other countries around the world. In 2014, the World Health Organization (WHO) estimated that 92% of the world's population lived in an area that did not meet WHO air quality guidelines. WHO also estimates that outdoor air pollution was estimated to cause 3 million premature deaths worldwide and of those premature deaths 88% of those people were in low and/or middle - income countries. A study published in 2013 by researchers from MIT's Laboratory for Aviation and the Environment estimated that there are 200,000 premature deaths due to air pollutions in the United States.
Check out the interactive map below to compare PM2.5 levels around the globe, you can hover over data points to view more detail and zoom in or out to get a better view of the map.
Air Quality Forecasting Around the World
Air Now can provide you with the current and forecasted air quality conditions in most of the United States and Puerto Rico but if you are traveling abroad knowing where to get your air quality forecast could be more complicated. When traveling internationally check out some of the websites and mobile apps below, they can provide you with valuable air quality information to help you stay 'Air Aware".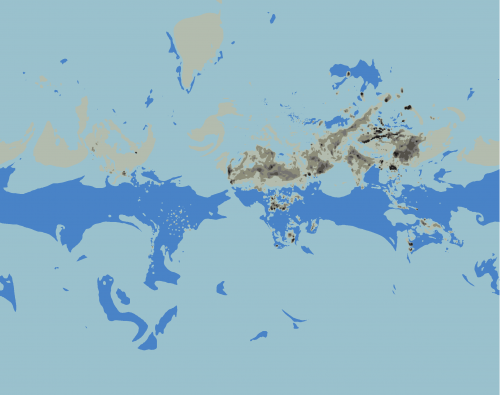 Plume Air Report - The Plume Air Report informs you in real time about the pollution levels of cities around the world. It provides you tailor-made recommendations on the best time to do your favorite activity without getting overexposed to pollution. And it works pretty much everywhere! Currently, they provide reports for over 200 cities worldwide. Check out the website or download the iOS or Andriod applications.
AQICN - provides real-time information for more than 50 countries in the world. Check out the widget below for an example of the air quality information that the website can provide.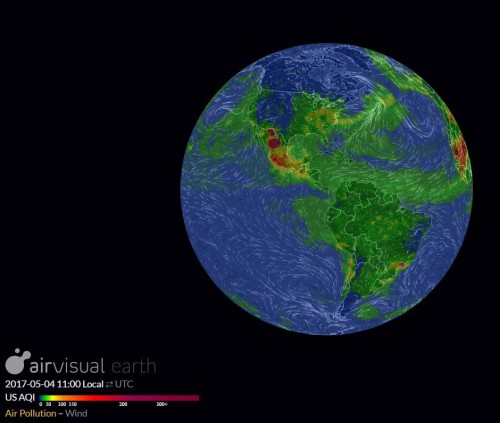 Air Visual - displays immediate pollution data on a 3D globe's surface, allowing the viewer to see the shifting movements of PM2.5 pollution across countries and populations, you can watch how this interacts with a hypnotic display of weather patterns. The interactive map allows you to spin the globe, zoom in and out, and toggle between combined PM2.5 and weather data, and just wind patterns alone. Track the different AQI levels across the planet at a glance via the globe's colour-coded heatmapping.
Global Air Quality Awareness Week Events
Check out what people all around the world are doing to celebrate Aie Quality Awareness Week 2017.
Jakarta, Indonesia
Embassy Jakarta will host a May 4 event for university and high school students that features presentations by a State Department Jefferson Science Fellow, the Embassy's Air Quality Fellow (via video), and Indonesian professors currently conducting air quality research. Using hands-on demonstrations and interactive discussions, the presenters and participants will explore the science behind air quality and air quality improvements.
Addis Ababa, Ethiopia
For Air Quality Awareness Week, the Regional Environment Office at U.S. Embassy Addis Ababa, Ethiopia will release an essay on the Embassy's blog, as well as social media updates, summarizing the array of Post's recent air quality engagements. The Embassy recently implemented its detailed Embassy-wide Air Quality Monitoring roll-out plan to launch the two new monitors located at our chancery and the international school. This roll-out campaign included a ribbon-cutting ceremony and briefing by the Chargé d'Affaires with Ethiopian government officials from the National Meteorological Agency. The Embassy also worked with the State Department's Bureau of Medical Services to bring out an air quality medical expert to give a Town Hall briefing about pollution impacts to an audience of 80 members of the Embassy and international diplomatic community, as well as delivering a presentation at the International Community School.
Seoul, Republic of Korea
U.S. Embassy Seoul will be jointly hosting an air quality-focused event on May 2 with students. Held at the American Center Korea, students will participate in the GLOBE Observer program by utilizing their smartphones, loaded with the GLOBE app, to make observations about the environment in and around the center.
Hanoi, Vietnam
U.S. Embassy Hanoi is proud to host Air Quality Awareness Week. To keep attention on this important issue over the course of the week, it will host three separate events: a panel discussion on air quality aimed at working professionals, a journalist roundtable, and a movie screening aimed at high school students. It will also release an op-ed by Ambassador Osius and top it all off with a healthy dose of social media activities to stimulate the conversation. Air quality is a growing concern of the Vietnamese public, many of whom look to the U.S. Embassy, and its air quality monitor, as a trustworthy source of information.
Lima, Peru
U.S. Embassy Lima will highlight the Embassy's air quality monitor and the importance of air quality awareness on the web and through its social media platforms.
Beijing, China
U.S. Embassy Beijing will hold an "Air Fair" on Friday, May 5, which will showcase air quality monitoring technology, the health effects of air pollution, and how to be air aware and protect yourself from unhealthy levels of pollution.
Ho Chi Minh City, Vietnam
The U.S. Consulate in Ho Chi Minh City has three separate events for Air Quality Awareness Week. On Wednesday, May 3 it will screen a series of movie and news clips on air quality and integrate them with a discussion led by environmental expert Hong Hoang of CHANGE, a local NGO. On Thursday, May 4, the Consulate will host a panel discussion with local economic and environmental experts on the primary sources of air pollution in and around Ho Chi Minh City. Finally, on Tuesday, May 9, the Consulate will host a workshop with local air quality and health experts on strategies for individuals to reduce exposure to harmful pollutants in the air. The discussion will review the relevance of the air quality index and other air quality measurements, as well as the potential long-term impacts of exposure to harmful pollutants.
Hyderabad, India
On April 20, U.S. Consulate General Hyderabad's organized a panel discussion on "Air Quality and the City". Consul General (CG) Katherine Hadda opened the discussion, which featured five experts (two of which are Department of State exchange program alumni) from India working in the field of environment and air quality. With 50 people in attendance, the event garnered significant interest – it was covered by local TV media, and several audience members followed CG Hadda to her car to ask more questions! CG Hyderabad plans to follow up with more clean air initiatives.