Citizen Science/Air Quality Sensors
Air sensor monitors that are lower in cost, portable and generally easier to operate than regulatory-grade monitors are widely used in the United States to understand air quality conditions. The air sensor technology market is expanding as more companies make lower-cost portable monitors available to the public. The new low-cost, highly portable air quality sensors give people the opportunity to use this technology for a wide range of applications like research, personal exposure monitoring, supplementing existing monitoring, investigating emission sources, education, and awareness. Learn more about air quality sensor and how they could impact your life.
What are Air Quality Sensors
Air Quality Sensors are devices that detect and measure specific chemical/pollutants in the air, these devices can have many use cases like monitoring indoor air quality, outdoor air quality or portable sensors that can be moved around frequently.
Air pollution sensors are still in an early stage of technology development, and many sensors have not yet been evaluated to determine the accuracy of their measurements. Sensor performance requirements differ according to the application. The quality of a measurement is dictated by the basic performance of the sensor, the way the sensor is operated, and the way its measurements are analyzed. Understanding the strengths and limitations of an air sensor is important in making sure the data collected is useful for the intended purpose.
EPA's Air Sensor Toolbox
Check out EPA's Air Sensor Toolbox. The toolbox provides the latest science on the performance, operation, and use of air sensor monitoring systems for technology developers, air quality managers, citizen scientists, and the public. The EPA is involved in the advancement of air sensor technology, including performance evaluations of sensor devices and best practices for effectively using sensors.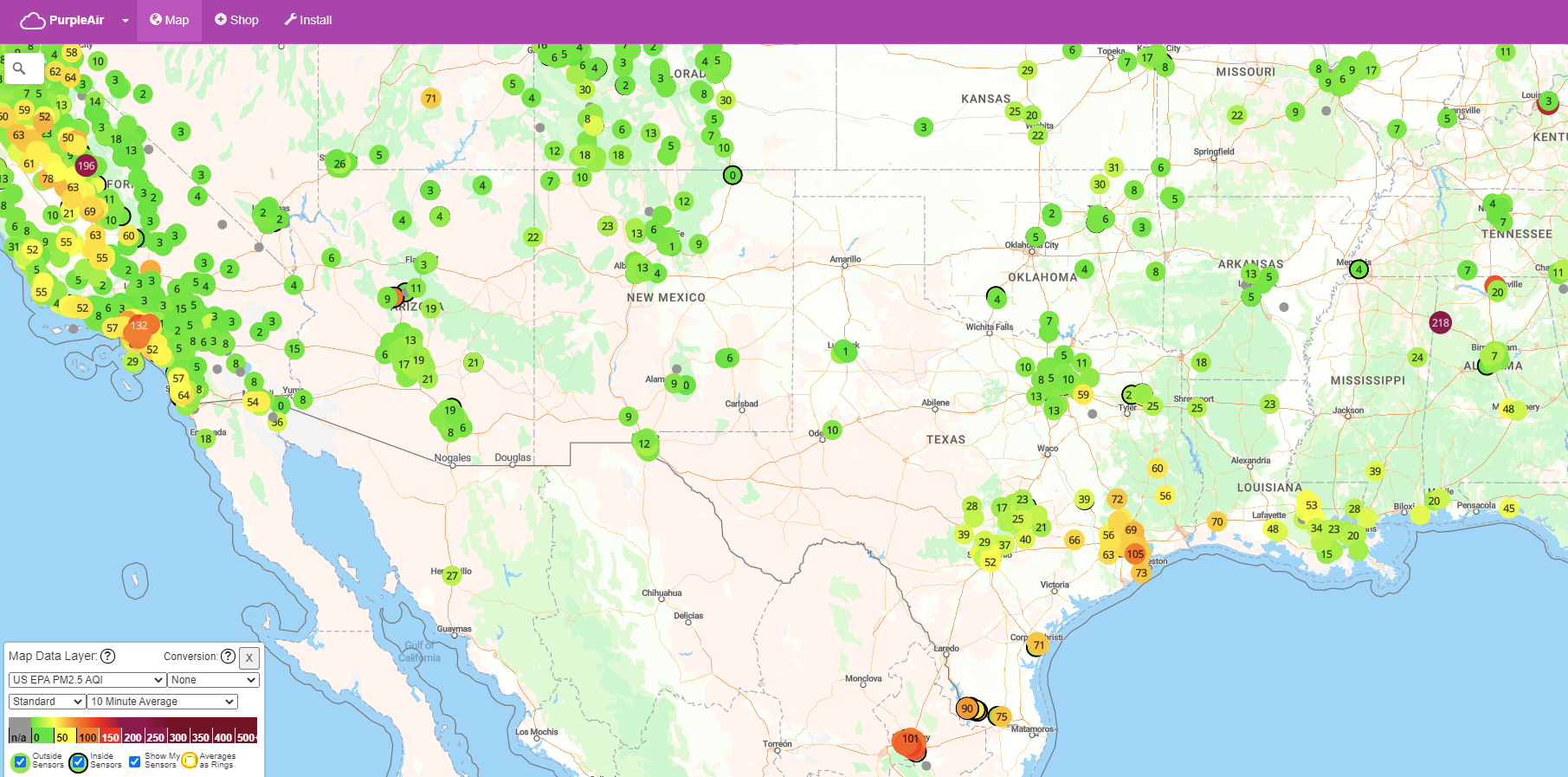 PurpleAir Particulate Matter Sensors
One of the most popular sensors on the market is the PurpleAir sensors which measure particulate matter. The PurpleAir sensors use a new generation of laser particle counters to provide real-time measurement of PM1.0, PM2.5 and PM10. PurpleAir sensors are easy to install and only require a power outlet and WiFi. They use WiFi to report in real time to the PurpleAir map.
There are many PurpleAir sensors installed in the Central Texas Region. The data is displayed using the Air Quality Index (AQi). View the current map of PurpleAir Particulate Matter sensor data in the region.
Air Sensors: Regulatory Data and Sensor Data Quality
The video below introduces the kinds of outdoor air quality data that are collected by EPA, states and tribes and how the data compares to individual air sensor data.
Air Sensors: Sources of Air Quality Information
The video below describes the advantages and limitations of different types of air quality measurement and information technology that include air sensors, satellites or computer modeling and how to interpret the data from air sensors.