Air Quality Around the World
Air quality in Central Texas may not be perfect, but it is important for us to reflect on how far we have come and compare our outdoor air conditions with other countries around the world. The World Health Organization (WHO) estimates that 91% of the world's population lives in an area that does not meet WHO air quality guidelines. WHO also estimates that outdoor air pollution was estimated to cause 4.5 million premature deaths worldwide. A study published in 2013 by researchers from MIT's Laboratory for Aviation and the Environment estimated that there are 200,000 premature deaths due to air pollution in the United States.
Air Quality Around the World
AirNow DOS: Through the US Department of State (DOS), AirNow DOS collects air quality monitoring data from U.S. embassies and consulates around the world to inform U.S. personnel and citizens overseas. The air quality data can be viewed in map format.
Plume Labs World Air Map - The Plume Labs World Air Map informs you in real time about the pollution levels of cities around the world. It provides you tailor-made recommendations on the best time to do your favorite activity without getting overexposed to pollution.
Air Visual - Pollution data on a 3D globe's surface is displayed which allows the viewer to see the shifting movements of PM2.5 pollution and how pollution interacts with weather patterns. The interactive map allows you to spin the globe, zoom in and out, and toggle between combined PM2.5 and weather data, and just wind patterns alone. Track the different AQI levels across the planet at a glance via the globe's color-coded heatmapping.

World Air Quality Index - The World Air Quality Index provides real-time information for more than 50 countries in the world. Check out the widget below for an example of the air quality information that the website can provide.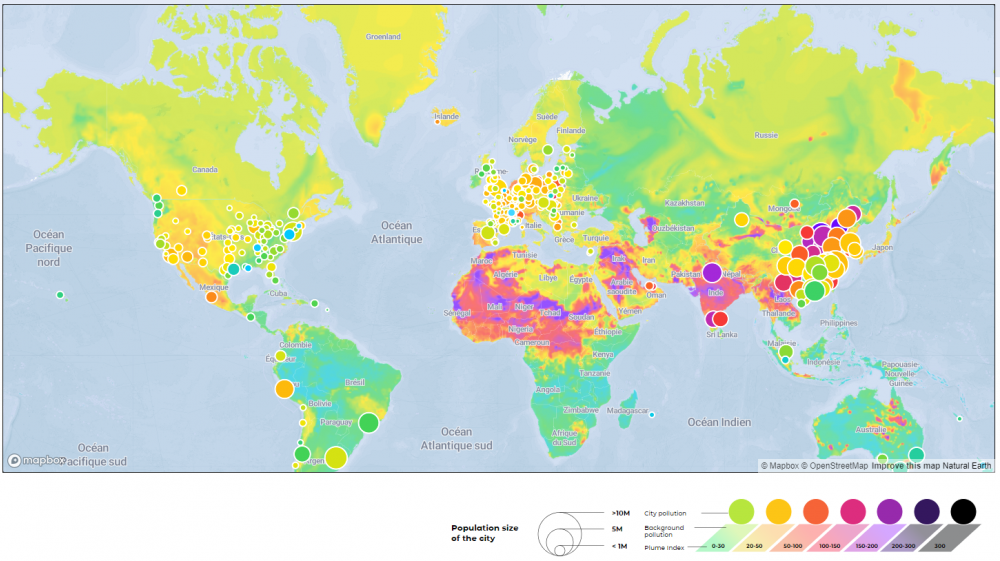 Example of the Plume Labs World Air Map