Air Quality Awareness Week (AQAW)
May 3-7, 2021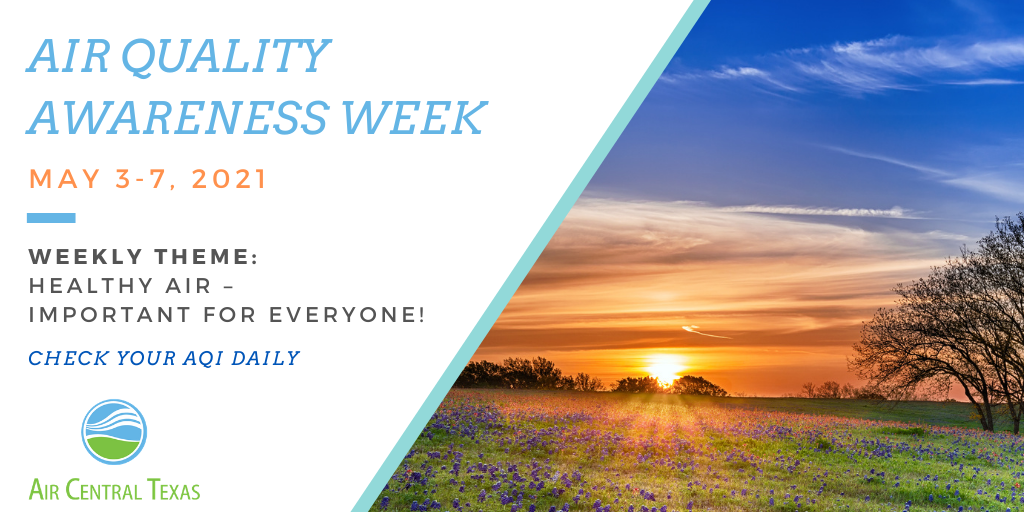 Join Air Central Texas as we celebrate Air Quality Awareness Week 2021!
This year's theme is Healthy Air – Important for Everyone!
Check out the feature topics to become more "Air Aware" about the diverse and complex issues that relate to air quality. Air Central Texas encourages the public to check the Air Quality Index (AQI) daily at AirNow.gov.
Recognize AQAW in Your Jurisdiction
Central Texas Clean Air Coalition members and the Capital Area Council of Governments members are invited to recognize Air Quality Awareness Week 2021 in your jurisdiction! Download the proclamation template to get started.
Proclamation for Air Quality Awareness Week 2021
---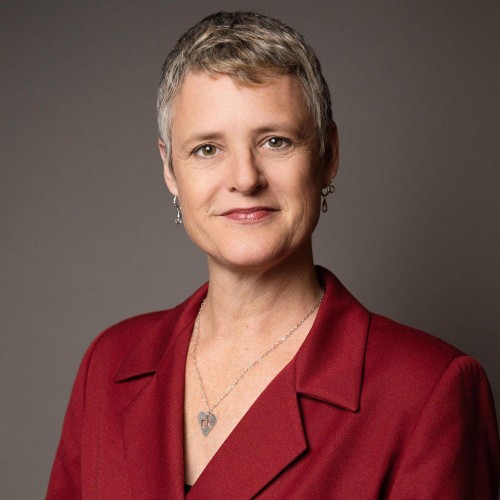 Texas State Senator Eckhardt Talks the Importance of Protecting Air Quality in Central Texas
Interview from 2019 when Senator Eckhardt was the Travis County Judge.
Why is it important that the region protect its air quality?

Clean air is crucial. On average, a person at rest takes about 16 breaths per minute, 960 breaths an hour, 23,040 breaths a day, 8,409,600 a year. Breathing polluted air can irritate nose, eyes and throat, as well as harm your lungs. Polluted air especially impacts the young, the elderly and people with respiratory illnesses — almost 40% of Travis County's residents. When adults and children are sick, medical bills, lost wages and school absences result. Breathing polluted air causes an estimated 60,000 premature deaths in the United States annually. Costs from air pollution-related illnesses are estimated at $150 billion per year. Additionally, poor air quality impacts crop productivity; crop yields suffer, resulting in increased costs to producers and consumers.
Improving air quality saves and improves lives.
Why is it important that the region take voluntary step to avoid nonattainment of federal air quality standards?
If we don't take the necessary actions to keep our air clean, the EPA will set mandated actions that we must comply with to clean up our air. I have always thought it better for local entities, private and public, to work together to decide which strategies we as a region can implement to improve air quality, instead of the federal government mandating us.
What is your commitment to protect air quality in the Austin-Round Rock-Georgetown region?
Travis County is committed to improving air quality and has adopted many strategies to reduce air pollution. We have a robust sustainable commute policy for employees, we use green energy as much as possible, we recycle and reuse resources and we are committed to constantly improving and reducing our impact on County resources. It is our responsibility as stewards of County resources to use them wisely to improve the quality of life for our residents.
Personally, I ride my bike to work, use public transportation and, when I must drive, I drive a zero-emissions vehicle. As County Judge it's my responsibility to lead by example.
What is important for the public to understand about air quality in the region?
We are close to exceeding the standard for ozone. If we exceed the standard this year and designated a dirty city like the Houston, Dallas and San Antonio areas, such designation has ramifications that will last for years. More than the impact on one's health and bank account, a dirty city designation will limit our region's ability to grow economically and could impact transportation planning. CAPCOG has estimated the economic cost to be between $0.9 - $1.4 billion per year. I'd rather see that money spent on education, social services, transportation and health care, for starters.
Is there anything else you would like to add about Air Quality Awareness?
Travis County is doing its part, yet we also need public support and buy-in. Air pollution from automobiles is the single largest contributor to air pollution for our area. Individuals can tak small actions which will have big impact on improving air quality. If everyone in Central Texas changes the way they travel to and from work once a week, four days per month, 48 times a year, it would improve air quality as well as traffic congestion. Just once a week take public transit, carpool, vanpool, walk, ride your bike, telework, commute some way other than in a single-occupied vehicle.
At the very least, individuals should ditch driving alone on an ozone action day. This action alone would limit the production of harmful ozone and keep our air cleaner. I make every effort to ride my bike or take public transportation whenever possible. It's imperative that individuals do the same, especially when there is an ozone action day. I do not expect more out of individuals than I expect of myself.