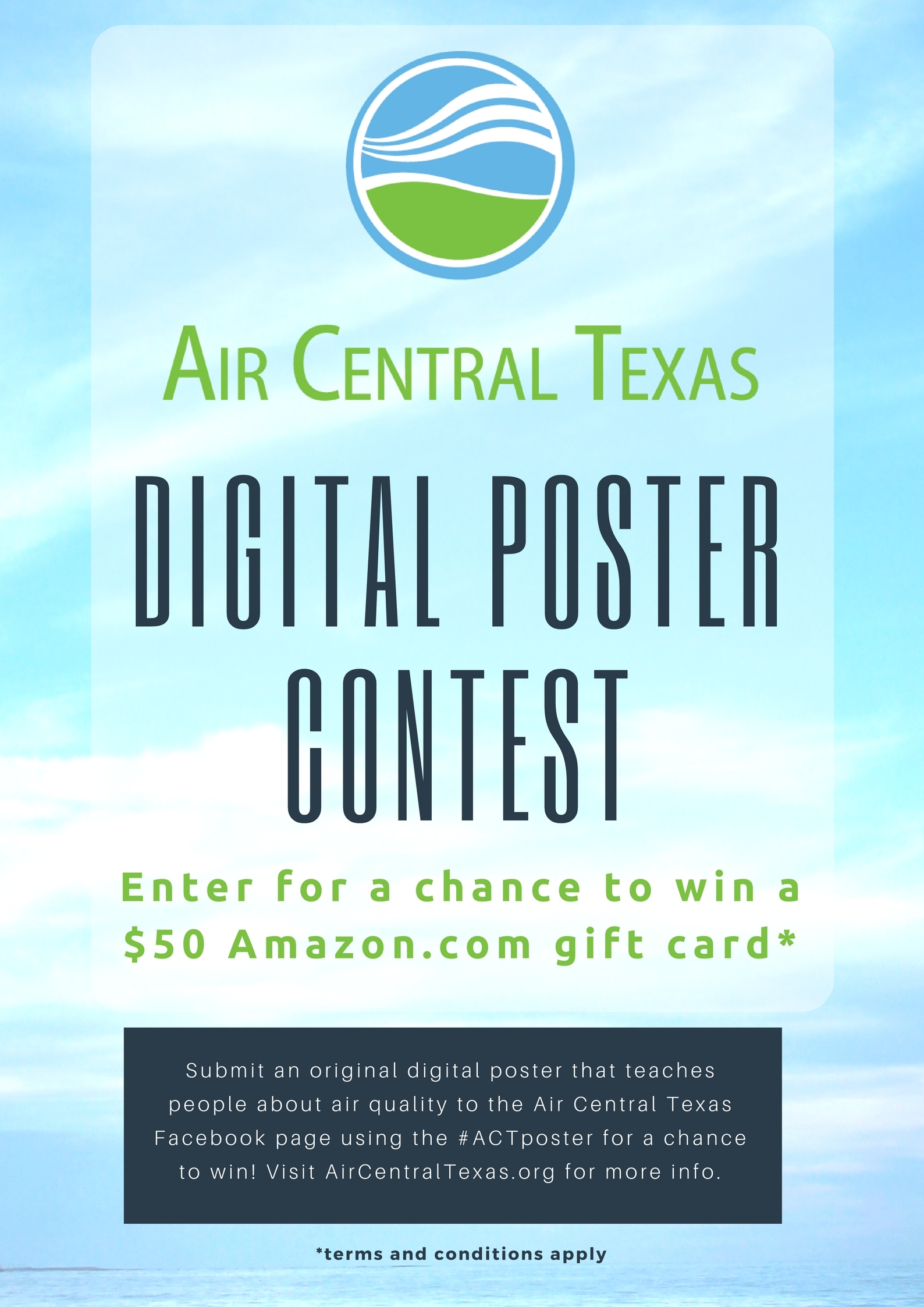 Air Central Texas is excited to announce the 2017 Digital Poster Contest! The purpose of the Contest is to promote and educate people about being Air Aware, which means to understand the actions that can protect air quality and the health concerns of poor air quality. Air Aware Actions include understanding;
Where air pollution comes from,
The actions that generate air pollution,
The Air Quality Index (AQI),
How to reduce air pollution, and
How to reduce exposure to air pollution.
Digital Poster Examples
How to Enter
The Contest runs from Monday, September 18, 2017 at 12:00 a.m. through Friday, November 03, 2017 at 11:59 p.m.
To be entered into the contest participants must submit their artwork on the Air Central Texas Facebook using the hashtag (#) ACTPoster. or Email them to acox@capcog.org where we will post them to the Facebook page on your behalf.
The Digital Poster can be artwork in the form of:

Graphics
Digital drawings
Photographs
Info-graphics
Combination of any of the above art forms

Poster must be at least 300 dpi and at a minimum size of 6″ x 3″ ( 576 x 288 px). Entries that are blurry or too small/large will lose points when being judged.
Poster can be submitted in any format that is accepted on Facebook.com; for more information visit https://www.facebook.com/help/...
Tips
The following software may be helpful when building a poster, however feel free to use whatever software that you would like.
Learn more about Air Quality to build a better poster
Tips to make an effective poster
Eligibility
Submissions can be sent in from an individual or as a group, however, only one prize will be sent to the group.
You must be 18 or older to accept a prize. Those under 18 may enter the contest but must have permission from a legal guardian who will accept the prize on the minor's behalf.
Judging Criteria
Entries will be judged according to the following criteria:
Originality/Creativity – 25 points
Effective Messaging – 25 points
Overall Appearance – 50 points
Prize/Odds
The odds of winning will be dependent on the number of eligible entries that are received.
There will be three (3) winners selected throughout the contest period.
Winners will receive a $50 amazon.com e-gift card which will be sent via the selected winner's email.
All prizes are nontransferable and nonrefundable, and substitutions or cash exchanges are not permitted, except that CAPCOG - Air Central Texas Program reserves the right to substitute (in its sole discretion) a prize of equal or greater value for any prize.
All prizes are awarded "as is" without warranty of any kind, express or implied, including, without limitation, any implied warranty of merchant or fitness for a particular purpose. All federal, state and local taxes associated with the receipt of any prizes are the sole responsibility of the winner.
Terms and Conditions
By submitting to this contest, the participant acknowledges and accepts all the rules, terms and conditions.
Air Central Texas reserves the right to remove images and/or designs if they contain offensive, advertising or malicious content, which are not related to the subject in question, or violate the constitution of the law.
The participant shall submit his or her own projects, photos and designs and any irregularities regarding the information provided will be withdrawn from the competition.
In case of violation of copyright, the organizer and sponsor disclaims any responsibility.
The acceptance of the terms of the Creative Poster Contest implies that Air Central Texas, organizer of the event, can use all that is presented to the competition including pictures, designs, graphics, and audio-visual media.